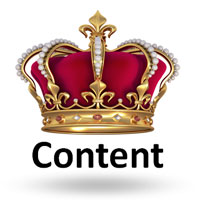 For a little change of pace, your host and blog moderator Chris Westmeyer has given me this opportunity to share with you some information on the future of online content, and a discussion of some important points to understanding its future significance. Hope you enjoy!

When talking about content, the first premise to consider is that for most companies, competing online via "new technology" has become more and more difficult. The truth is, regardless of company size, there can only be a select few winners in the contest to be the best "technology-driven" business online.

True, the technological lead sometimes changes hands, like it did away from AOL and MySpace to the current leaders in their respective fields. But those occurrences are becoming rare. Companies such as Google have gained so much mass, brand equity and momentum that it may be years before they are supplanted in any meaningful way. They won't be handing off their lead in many categories anytime soon.

No, the way to compete today is by becoming a purveyor of content. Drive traffic to your website, platform or service by creating and sharing valuable information to your target audiences. Fill a niche market. Find a group or segment with unmet needs, and fulfill them.

And this is exactly what AOL and MySpace have done. AOL bought the blog network Weblogs, home to many popular blogs, such as Engadget and Joystiq; and they now employ over 3,000 freelance writers and more than 150 full-time journalists. And the AOL portal is still popular, and drives traffic to their many in-house publications.

MySpace decided to become a home for music and celebrity content. The platform is no longer about networking with friends, passing that baton to Facebook some time ago.

So, MySpace is now focused on a wide variety of entertainment channels, and features a huge supply of new music and music videos. Their plans to offer Facebook Connect functionality clearly show how re-focused their business plan has become. They couldn't beat Facebook in social networking technology, so they shifted to becoming a content provider.

So becoming a "destination" is the key to competing online, for almost every small and mid-sized business, and even for most large corporations. It should also be noted that we're obviously talking about a continual and ongoing process for creating content, not a singular campaign or event.

And when analyzing the examples above, it's easy to understand why content must also be "fresh." Ask yourself the question: Would you read the exact same newspaper two or more days in a row? Probably not. You need to view your web content in the same manner.

Without ongoing content being added to your website, readers have no incentive to return. And though your website may be highly-ranked today, without fresh content being added the search engines will (eventually) simply move on to sites with newer information.

Ideally, this means you'll have new content every time the search engine crawler (for SEO newbies, an automated program used to review websites) visits. You need to show the engines that your site is being actively monitored and managed, obviously a good thing in their eyes. This ensures the crawler always has fresh content to index, and new links to explore. It won't ever see your site as "stale", and decide to drop it in the rankings.

So, think about your web content as accomplishing two equally important goals:

1. The first is to provide clear, compelling information about your brand, products and services, to influence the buying behavior of visitors.

2. The second goal is to attract (and keep) the attention of the search engines, to build your potential audience and prospective business going forward.

Knowing exactly what keywords to focus on within your content is a conversation for another day, but SEO pros can analyze your business and let you know which words are the ones you should include in your content. But, once these keywords have been established, where can you find source material that can assist you in writing your web copy?

There are a number of effective strategies that you can use to generate your content. First, look around your desk or office, and you'll probably see some marketing materials or sales tools that you have used to educate and solicit new business. This is an excellent place to start. If you send an email newsletter, or print and distribute a traditional version, that information should be shared on your website as well. Writing and distributing press releases online is another good strategy.

After you have found source materials, how do you share your content? Creating standard web pages is obviously one possibility. Starting your own blog and either writing it yourself, or hiring a freelance writer to assist you, is another winning strategy. A well-written blog can establish you as an expert within your business category; a "trusted advisor" that readers will consult with before making purchasing decisions. And having your own blog provides you with an open forum to share new developments and news items, sales, discounts and special promotions with your readership.

A blog also allows you to receive comments from your readership, which creates a more collaborative and interactive environment. This type of feedback is vital to understanding the changing wants and needs of your customer base, and responding appropriately.

Of course, we cannot ignore the massive amounts of new content generated on social media, including Facebook, Twitter and LinkedIn. These networks also allow for a back and forth conversation with your most loyal customers and biggest brand champions, as well as your prospects. Your content communicates directly with your network, providing the opportunity for feedback, and also the opportunity for current customers to spread the message about your business with their other connections.

Hopefully this post helps to explain the vital importance of your web content now, and going forward. In future posts, we will explore some winning tactics that you can use to successfully create and share what you have created.

Jim



Jim Haynes is the owner of Hat Trick Associates (HTA), a firm specializing in the creation of online content. HTA designs, writes and distributes completely custom email newsletters, writes professional blogs for companies, and also sets up and manages social networking accounts for businesses. His team can assist you with any writing or online content needs, and can be visited online at: www.hattrickassociates.com.